Solar heating Systems



We sell Solar heating systems for Inground and
above ground
swimming pools
But, before you buy; please learn the basics of these system. We wouldn't want you to be disappointed. These systems are THE BEST ON THE MARKET. We only sell systems we know and trust to perform.
First of all, this is the basic principle: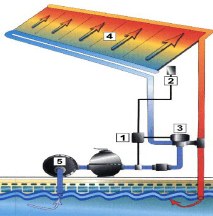 Water goes into the pump (6) from the pools, then thru the filter, to the control valve (3) where it can be diverted either to the solar collectors or back to the pool. ( depending on whether the pool needs heat and if the collector can supply heat at the time) after traveling up the collectors the water is returned back to the pool thru it's existing return plumbing.
As you can see in the diagram, there are two check valves in the system; One between the filter and control valve (3) to prevent back flow when the pump stops pumping. The other between the the solar collectors (4) and the the return plumbing to prevent water from circulating in reverse thru the collectors while the system is not active.
What makes this works is, the control unit (1) senses the temperature in of the water traveling thru the filter system. If the pool requires heat, It then checks the conditions where the solar collectors are located and decides whether they can supply heat using a sensor (2). This sensor reacts to wind, temperature and radiation the same as the collectors would. If conditions are correct, the control unit will activate the control valve to divert the filtered water thru the collectors.
The control unit has a thermostat that is easily set or changed, as well as a manual on/off. During normal operation the control unit would be left on the ' auto' selection to take advantage of every moment of FREE HEAT during the ENTIRE SEASON.
Common misconceptions: You need a hot and sunny day to heat your pool WRONG
Fact: These collectors are made from a very special material that INSULATES the water from the ambient temperature, they are designed to absorb the radiation of sunlight ( infra red, ultra violet ect) to heat the pool water. On a day that is 65 degrees you can heat your pool from 70 to 80 degrees.


The design of these collectors take advantage of every ray.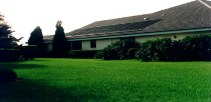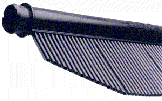 Hi-Tec Solar Heater System Kit Selection Table

Hi-Tec Solar Heater System Kit Selection Table
| | | | | | | | | |
| --- | --- | --- | --- | --- | --- | --- | --- | --- |
| Pool Size | 12 x 24 | 16 x 32 | 18 x 36 | 20 x 40 | 18 x 50 | 20 x 50 | 22 x 50 | 20 x 60 |
| Pool Area (sq. ft.) | 288 | 528 | 648 | 800 | 900 | 1000 | 1100 | 1200 |
| Kit Part Number | 1225 | 1633 | 1837 | 2041 | 1851 | 2051 | 2251 | 2061 |
| Number of Collectors | 3 | 6 | 7 | 9 | 10 | 11 | 12 | 13 |
| Collector Area (sq. ft.) | 144 | 288 | 336 | 432 | 480 | 528 | 576 | 624 |
| Solar Area as % of Pool | 50% | 55% | 52% | 54% | 53% | 53% | 52% | 52% |

Request for More Info about Solar Heating Systems